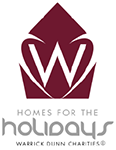 Donation To Provide More Than 100 Homes To Single Mothers
RYAN D. "JUME" JUMONVILLE MAKES RECORD DONATION TO WARRICK DUNN CHARITIES
July 29, 2019 - Warrick Dunn Charities, Inc. (WDC), which is recognized across the country for its Home for the Holidays program, is proud to announce a multi-million dollar gift that will make 100 families across the United States first-time homeowners. The donation from Ryan D. "Jume" Jumonville is the largest gift in the 22 year history of the non-profit. To date, WDC has worked with 170 families to provide them with a first-time, permanent home.
"This gift is transformational," Dunn said. "The generosity shown will not only impact the families that move into these homes, but their future generations. But more than that, it demonstrates how businesses can change and improve the conditions of a community."
Dunn's Homes for the Holidays program, established in 1997, was inspired by the tragic death of his mother, Betty Smothers, a Louisiana police officer killed by armed robbers during an extra-duty security job. After the death of his mother, Dunn became the main provider for his five younger siblings. Dunn went on to become a celebrated running back in the NFL and is today a minority stakeholder in the Atlanta Falcons organization.
Dunn and Jumonville initially became friends while playing football together at Catholic High School in Baton Rouge, LA in the early 1990s. "I've supported Warrick's charitable efforts for many years now and have witnessed the great impact he is making in the lives of these families," Jumonville said. "It is an honor to team up with Warrick to move these deserving mothers and their children out of poverty and into a stable home life."
Homes for the Holidays currently operates in Atlanta, Baton Rouge, Jacksonville, Tampa/St. Pete, Tallahassee, New Orleans, Dallas/Houston, Nashville, Newark, Milwaukee, Baltimore, Augusta and Detroit. The gift from Jumonville will allow more families to gain entry to their own homes and expand the program to previously unserved communities.
About Warrick Dunn Charities:
Warrick Dunn Charities, Inc. is committed to improving lives through innovative programming inspired by our founder's life journey. Since 1997, the Homes for the Holidays program has helped 170 families and 459 children and dependents achieve first-time home ownership. Serving single parent families nationwide, WDC and its partners have helped single parents combat poverty and hunger and ensure families have basic necessities and comfortable surroundings in order to improve their quality of life. For more information, visit www.wdc.org.